19/10/2014
Μέλη του Ισλαμικού Κράτους αποκεφαλίζουν τρεις άνδρες στη Ράκκα για "βλασφημία"..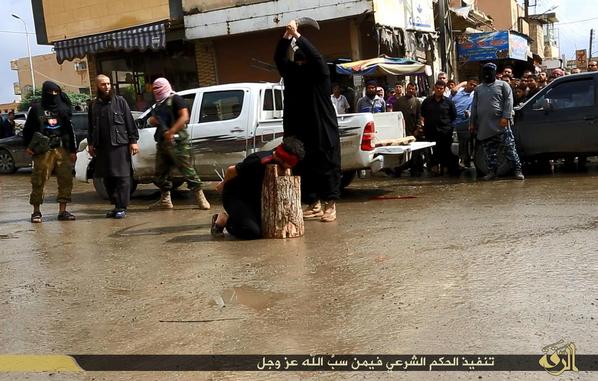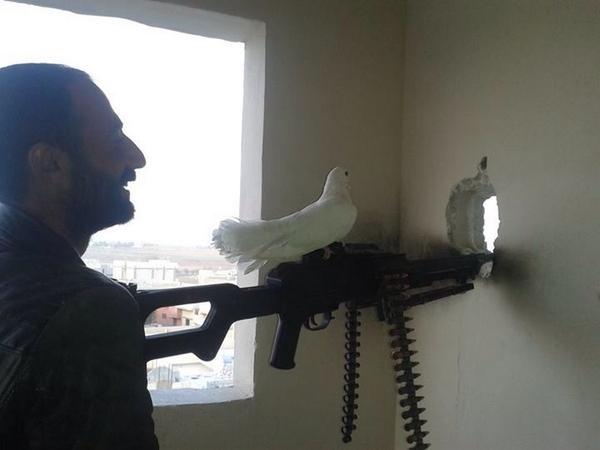 http://en.firatajans.com/news/news/asya-abdullah-isis-reinforcements-to-kobane-should-be-prevented.htm
Asya Abdullah: ISIS reinforcements to Kobanê should be prevented
ANF/ SEDAT SUR - KOBANÊ
26.10.2014 11:30:10
As the ISIS attacks on Kobanê continue after 40 days, PYD Co-President Asya Abdullah, who has been in Kobanê from the beginning of these attacks, said ISIS is constantly bringing up reinforcements, and that fighting has intensified in Kobanê in the last few days. She added that the 40-day resistance was a resistance for humanity, and that effective support from democratic forces and the coalition was necessary.
Asya Abdullah commented on the Free Syrian Army (FSA) decision to fight in Kobanê, saying talks were continuing between the YPG and FSA and that the YPG would issue a statement in the coming days. PYD Co-President pointed out that they had had a positive political attitude to military and political forces fighting for democratisation in Syria since the start of the revolution, adding: "We consider the FSA's decision to support the Kobanê resistance a positive one. How this will be implemented will be decided after dialogue between the YPG and FSA."
Asya Abdullah said she was also pleased by the decision of the Parliament in South Kurdistan to send peshmerga to Kobanê, adding that the peshmerga had yet to arrive and that this was being discussed by the YPG and Peshmerga.
Abdullah who also reiterated her appeal for a humanitarian corridor to be opened urgently said ISIS was bringing in reinforcements and weapons from nearby towns and called for the coalition to make effective interventions to prevent this.
PYD Co-President Asya Abdullah answered ANF's questions on the latest developments in the resistance in Kobanê.
As you know, the FSA announced 3 days ago that it has assembled a force of 1,300 fighters in Aleppo and wants to come to Kobanê to fight. Were you consulted about this? How do you evaluate this decision?
As regards the FSA our stance has been clear from the start of the revolution. As a party which has a project for the democratisation of Syria our attitude to parties involved in political struggle and military forces fighting for the future of Syria has been apparent. The YPG has relations with the FSA. It developed contacts with them in Serêkanîyê. In the resistance since 15 September an alliance has been formed with the FSA and Burkan Al Fırat and their fighters and the YPG fighters have fought and died side by side. As this is a military matter it is for the YPG to deal with. A YPG commander was interviewed today by ANF and the YPG's general position was explained. The YPG and FSA will discuss how the FSA force will come and how it will be deployed.
Politically, how do you evaluate this decision?
Politically we are not opposed to any group. We welcome any force that wants to support the resistance in Kobanê. We want to be in alliance with any force that concurs with our democratisation project. The FSA is already fighting with us. As YPG/YPJ commander Meysa Ebdo said in her interview, the FSA can fight ISIS in Manbij, Jarablus and other towns controlled by ISIS.
The South Kurdistan parliament decided to send peshmerga to support the resistance in Kobanê. It was said that a force of 200 would come with their weapons. How do you assess this decision?
The peshmerga have not yet arrived. Dialogue is continuing with the YPG. We consider it positive for Kuredish forces to join the resistance in Kobanê. The Kurdish forcews will resist together in harmony as they have done in Sinjar.
Have the air strikes by the coalition forces made a contribution to your resistance? Will the arms support continue?
We consider this to be very positive and hope it will continue.
Are these airdrops sufficient or is there still a need for a corridor?
Airdrops have made a contribution to the YPG's resistance to the ISIS gang attacks. But of course it is not sufficient. Our demand for a land corridor has strategic importance as regards breaking down the attacks on Kobanê, which has been under an embargo for a year. There is still an urgent need for a corridor that would facilitate the movement of civilians, humanitarian aid, international monitors and NGOs, and those who want to join the resistance, and as a whole to ensure needs are met. A corridor should definitely be opened under the auspices of the UN. People must raise their voices and express this demand more loudly, as in recent days fighting has intensified and a corridor would make a significant contribution in repulsing these attacks.
Two days ago ISIS attacked civilians near the border at Tel Shair. Wouldn't a corridor also be important for the safety of thousands of civilians stranded at the border?
Absolutely. A corridor would prevent loss of life by facilitating medical intervention. A corridor is needed for humanitarian reasons in particular. All three of our hospitals have been destroyed by the ISIS gangs.
We have heard that ISIS has been receiving reinforcements in recent days. What can you say about this?
It is true. Reinforcements and weapons have come from places such as Rakka, Manbij and Jarablus. We know they have brought the vehicles they have detonated in Kobanê from these places. Attacks have intensified in the last 3 days. The YPG/YPJ forces and FSA fighters are putting up a heroic resistance.
Are the coalition forces not taking action against these reinforcements? Shouldn't they be intervening?
We consider the coalition support to be important for the resistance, but more effective interventions are needed. The heavy weaponry of the gangs needs to be destroyed.
What do you mean by more effective intervention?
All the military equipment, tanks, artillery, shells and bomb-laden vehicles come from Manbij, Jarablus and Rakka. The coalition needs to make effective strikes on these routes.
Is there anything else you would like to add?
The conflict has intensified in recent days. Clashes have intensified in the eastern neighbourhoods of the town. The YPG and FSA fighters are continuing their resistance, which is a resistance for the peoples of the region and for all humanity. More effective support from the coalition and democratic forces is necessary. We can say that the situation is critical and awareness should be raised.
http://en.firatajans.com/news/news/clashes-continue-as-isis-intensifies-attacks-on-kobane.htm
Clashes continue as ISIS intensifies attacks on Kobanê
ANF - KOBANÊ
26.10.2014 11:00:11
Fierce clashes continue at the southern, eastern and western fronts of the Kobanê town of West Kurdistan, Rojava, on the 41st day of intensified attacks by ISIS gangs aiming to occupy the city.
ANHA reporters on the ground have informed that fighting between YPG [People's Protection Units] forces and ISIS gangs has got heavier at the southern front where 14 gang members have been reported killed.
Severe clashes are also taking place at the eastern front where 9 gang members have been killed according to initial reports coming through. YPG fighters have here seized a bomb prepared to be used in a suicide attack.
Gangs are also reported to be launching continuous mortar attacks on the town centre and targeting civilians.
At the western front, YPG fighters carried out an action against gangs in an area between the villages of Têndir and Sosanê, destroying two vehicles of the gangs and inflicting heavy casualties.
YPG fighters also destroyed a heavy weapon-laden vehicle belonging to the gangs in an area between south and west Kobanê.
Two more gang members were killed in another action by YPG fighters between the villages of Menazê and Gulmet.
http://kurdishquestion.com/kurdistan/west-kurdistan/the-fall-of-kobane-will-be-good-for-turkey.html
(Ένας Κεμαλιστής εξηγεί τους λόγους για τους οποίους η Τουρκία (και αυτός) θέλει να πέσει το Κομπάνι..)
Ψόφο στους Κεμαλιστές
The fall of Kobane will be good for Turkey
Written by KurdishQuestion.com
Ψόφα Κεμαλιστή Ψόφα Κεμαλιστή Ψόφα Κεμαλιστή
Ψόφα Κεμαλιστή Ψόφα Κεμαλιστή Ψόφα Κεμαλιστή






The leader of the Workers' Party in Turkey, Dogu Perincek has said that "the fall of Kobane will be a good thing for Turkey. Kobane will be wiped out".
Perincek, who made these comments yesterday in an interview with Cihan News Agency, was arrested and imprisoned in Turkey as part of the Ergenekon trials in 2008. He was later released in March of this year. After his release, Perincek developed close ties with the AKP government and swore to collaborate with them in their struggle against the Gulenist movement, whom the AKP have engaged in a comprehensive power struggle spanning the security institutions, the bureaucracy and the judiciary.
Here is what Perincek had to say regarding Kobane:
"The dreams of Kurdistan are being dismantled [in Kobane]. Kobane is going to fall anyway. Do they really think that because America is supporting them they will be dale to sustain a self-administration there. They do not have a chance in hell. The Kurdish corridor has been destroyed there, and it will be cleaned up. And this will be a positive development for the territorial dignity of Syria, Turkey, Iran and Iraq. This is why if Kobane falls, Turkey will be able to relax."
Perincek continued with his outburst:
"We, as Turkey, will not allow for a Kurdish corridor. America wants to form a Kurdish corridor, or actually, a second Israel
We cannot accept for Barzani to have access to the Mediterranean. Those that cannot accept this are Turkey, Syria, Iran, Iraq, Lebanon, Egypt; all these countries are agreed on this. America's plans have fallen apart, America has lost in Syria. They have lost once more in Ayn Al Arab (Kobane), they have been annihilated."
It is worth noting that, several political commentators have already said that Perincek's outburst and the sentiments he has expressed is what is determining the AKP government's stance towards Kobane.

http://en.firatajans.com/news/news/isis-gangs-used-chlorine-gas-against-iraqi-army.htm
ISIS gangs used chlorine gas against Iraqi army
ANF - BAGHDAD
26.10.2014 12:30:12
Xendan, a news agency in South Kurdistan, says that the ISIS (Islamic State of Iraq and al Sham) gangs used chlorine gas against the Iraqi army units to the north of Baghdad.
A video broadcast by Xendan shows a group of Iraqi soldiers who were found unconscious on a river bank. The soldiers said they were overcome by thick yellow smoke after an explosion. An eyewitness confirmed what had happened to the CNN Arabic channel.
The chemical attacks by the ISIS gangs came onto the agenda after the gangs launched an attack on Kobanê. Now the Iraqi army has also became the victim of a chemical attack by the ISIS gangs. It is accepted that chlorine gas is a chemical weapon with lethal effects. It can also be used in shells.
This incident which was also experienced in Kobanê occurred in Iraq last month. The US Secretary of State John Kerry said that they are taking seriously the claims that the ISIS gangs used chlorine gas against the Iraqi security forces and they are investigating the claims.
The Washington Post newspaper wrote Friday that 11 Iraqi police officers were taken to a hospital in Bagdad with nausea, vomiting and difficulty in breathing. The Iraqi police officers were diagnosed with poisoning by chlorine gas.
http://en.firatajans.com/news/news/shots-fired-at-police-control-point.htm
Shots fired at police control point
ANF - VAN
26.10.2014 09:30:30
It is reported that a police control point in the city of Van was shot at with long barrelled weapons yesterday evening.
The attack took place at around 19:00 when shots were fired from a vehicle at the police control point in front of the police houses on Silk Road Street. The people who opened fire left the area in the same vehicle. No information was available regarding casualties.
After the incident, Turkish police and soldiers launched an operation in the surrounding area.
http://www.hawarnews.com/english/index.php?option=com_content&view=article&id=2789:salih-mulsim-erdoan-is-against-kurdish-gains&catid=1:news&Itemid=2
Salih Mulsim: Erdoğan is against Kurdish gains
NEWS DESK - In a TV show, the PYD co-chair Salih Muslim reacted to Turkish President Erdogan's remarks on the PYD being a terrorist organisation.
Muslim said, "We have never been perceived as the PKK. He is trying to find an excuse. This just shows to us that he is against any kind of Kurdish gain, he is opposed to the Kurdish people gaining their rights. We want to build a democratic Syria. Now he is against this. Because this will mean that the Kurdish identity will be recognised. He is trying to find excuses to counter this. We cannot accept this. He is well aware of the truths. How many times have I been to Istanbul to meet with officials? We are meeting in their home. With the top officials. Then as soon as we leave, they call us terrorists behind our backs. Mr. Erdogan knows and so do all the officials. We are the ones that are fighting against ISIS on the frontline. He must clarify certain things. Is he going to support our fight or not? If he really wants to combat ISIS terrorism, then he needs to support us and be with us".
To a question on whether the PYD is happy for the FSA to come and fight in Kobanî Muslim said. "The FSA is already fighting in Kobanî alongside the YPG. However, rather than trying to get extra fighters into Kobanî, the biggest support they could give the defenders of Kobanî is if they could open new battlefronts with ISIS in other places. Because Kobanî is besieged, therefore, new battlefronts could relieve the pressure on Kobanî. But all of these must be discussed, first and foremost, with the YPG".