http://en.firatajans.com/news/news/ypg-fierce-clashes-continue-in-kobane.htm
YPG: Fierce clashes continue in Kobanê
ANF - KOBANÊ
31.10.2014 13:30:33
YPG (People's Protection Units) Press Centre has reported in a written statement that attacks by the ISIS gangs to occupy Kobanê continued on the 46th day.
The YPG statement pointed out that ISIS gangs who were continuing their intensified and continuous attacks on the Kobanê town were facing a determined resistance by YPG/YPJ fighters and local people alongside FSA-affiliate Burkan Al Fırat forces.
YPG Press Centre stated that gangs had launched two separate attacks on the Kaniya Kurda region to the northeast of Kobanê yesterday evening and night, and that both attacks have been repulsed. 3 gang members were killed in the fighting in this region, it noted.
On the Municipality Street, -the statement said- YPG forces carried out a counter attack on some areas occupied by the gangs. YPG reported that gangs therewith attempted a car-bomb attack in order to hinder the attack by YPG forces who destroyed the car and killed 4 members of the gangs in the clashes here.
According to the YPG statement, the southeastern front has also witnessed violent clashes while the exact figure of casualties in this area couldn't be ascertained.
YPG forces on the eastern front have in the meantime started to perform surveillance operations in the areas they took under control following severe clashes during last night and the day before. Protection Units have seized large quantities of ammunition belonging to the gangs, and bodies of 13 ISIS militants killed here.
The statement added that 17 gang members were ascertained killed in the hand-to-hand fighting at the southern front Thursday evening.
http://en.firatajans.com/news/news/peshmerga-we-are-preparing-to-cross-into-kobane.htm
Peshmerga: We are preparing to cross into Kobanê
ANF - URFA
31.10.2014 14:15:15
Peshmerga forces coming from South Kurdistan to support the YPG (People's Protection Units) resistance against ISIS gangs in Kobanê are still being kept waiting at the Çukobirlik site near the Mürşitpınar border crossing since their arrival three days ago.
An official in charge of Turkish guidance to the peshmerga made statements about the current situation, avoiding to disclose his name for security reasons.
The guide said that their moral was high and that they were preparing to cross into Kobanê soon. "We will soon give the good news to our people", he added.
The guide also avoided giving further information about the exact time of their crossing for security reasons.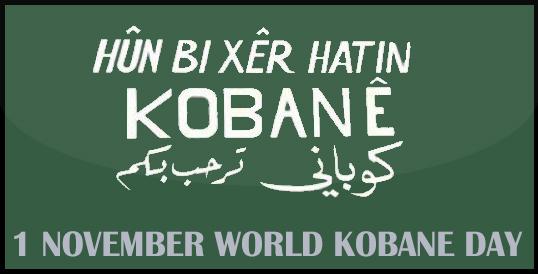 A Brave
#
Kurdish
Mother washing her own martyred son
Ο άνθρωπος (1) και το ανθρωποειδές (2)